Overview
The Blog Categories module displays a list of the categories to which the blog owner has posted and how many posts in each category. The General category is listed first. All other categories are listed alphabetically.
Clicking on a category name will take you to a list of all blogs within that category for the given user or group.
The module is designed to fit one of two looks, either the continuous list view, or a single category per line view.
This module is part of the default page layout for the user blog page and the user blog permalink page. It does not display if empty.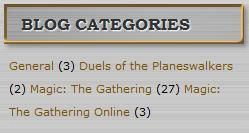 Parameters
Title
Input Type
Options
Default
Page Type
Title
text
Blog Categories
usergroup