Overview
The ONEsite Control Panel is an administrative tool used to manage all aspects of your social network. It has a single set of login credentials which will be provided to you by your Project Manager.
URL – https://admin.onesite.com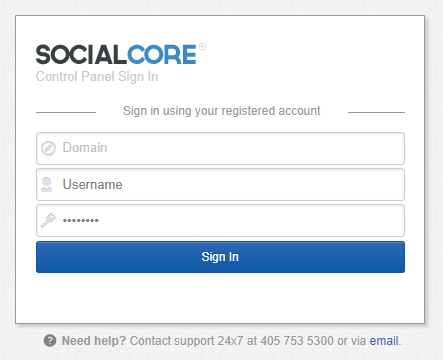 Note: Please only use the name of your community in the domain field. I.E. domainname.com. Your login will be rejected if you append www or http:// to the front of your domain name.
For your security, multiple failed login attempts to the master control panel will lock your control panel to any further login attempts. Should this happen, you will need to contact ONEsite support number and request the block on your control panel to be cleared.
Using the Control Panel
Once you log in, you'll be presented with the Network Setup page. You can access key sections of the panel from here, or utilize the navigation system on the left.
The left rail of the control panel shows the standard navigation first, and is followed by any other domains attached to the account you are currently logged in to. This is important for sites that have multiple domains or clients under their umbrella as it is possible to switch from one domain to another without the need to log out and back in by clicking on the name of another domain in the left rail.P
Key Sections of the Control Panel Include:
Dashboard – This area of the control panel allows you to get a quick overview of activity on your site.
Users and Groups – Manage user accounts accounts, groups, and tiers.
Moderation – Manage flagged content via moderation tools and settings.
Plugins – Manage email templates, gamification/loyalty, Social Integration, Categories, Documents, Forums, Videos and more.
Options – The options tab allows you to control header and footer templates, page resources, network version, network default settings, trigger events, and general setup.
Analytics – ONEsite has a robust analytics system that allows you to view custom reports based on content type and date range.
Control Panel Management
The ONEsite control panel is organized into categories that aggregate similar functionality and make it easier to manage various aspects of a community.
Dashboard
Site Builder
Assets
Look & Feel
Page Builder
Settings
Markup Editor
Resource Manager
Menus
User Navigation
Wonder System
Users & Groups
Group Management
User Management
Tier Management
Moderation
Quick Moderation
Ban IP
Manage IP Bans
Moderation Log
Moderator Settings
Profanity Filter
Security Settings
Spam City
Spam Queue
Suspended Users List
Trigger Words
User Forum Posts
Plugins
Comments
Email
Gamification
Registration
Social Integration
Email Marketing
Articles
ONEsite Live
Content Categories
Custom Quotes
Document Manager
FAQ
Forums
Polls
Rating & Sharing
RSS
Videos
System Notifications
Terms of Service
Options
Site Wrapper
Ad Campaigns
Basic Settings
Custom Avatars
Custom BB Codes
Default Friend
Default Message
Trigger Events
Network Setup
Analytics
Activity Overview
Activity Report
Message Board
Top Sites
Top Referrals
Related Resources
Moderator Control Panel – The moderator control panel is a specialized view of the control panel, offering only the tools and pages that allow moderators to manage users and content on the site. Each moderator logs in with a unique username and password and all actions they take are logged.