Overview
The Network Polls page can be accessed through the Control Panel at Plugins > Polls.
This feature allows you to create polls for use by your entire network, rather than having that poll belong to a particular user or group.
This page has two areas:
Manage Polls
You have four main activities here:
Create a Poll
Edit an Existing Poll
View Poll Details
Delete a Poll
Create a Poll
You must first select the kind of poll you wish to create:
Next, name your poll.
Each poll begins with a default set of parameters. You can view these parameters or customize them by hitting the Show Advanced Options link. This allows you to change everything from the who can take your poll, how the results are displayed, and more.
The final step is to define the answers to your poll.
How many answers do you need?
What color do you want to use to represent each answer?
Select the number of options you want to offer and hit Go! This adds the corresponding number of fields you must now populate with the answer in the text field, and the color to the right. To select a color, click on the color wheel next to a field. This opens a color selector popup.
Adjust the position of the slider to change the main color first. Then drag the dropper around to get the shading of your color choice.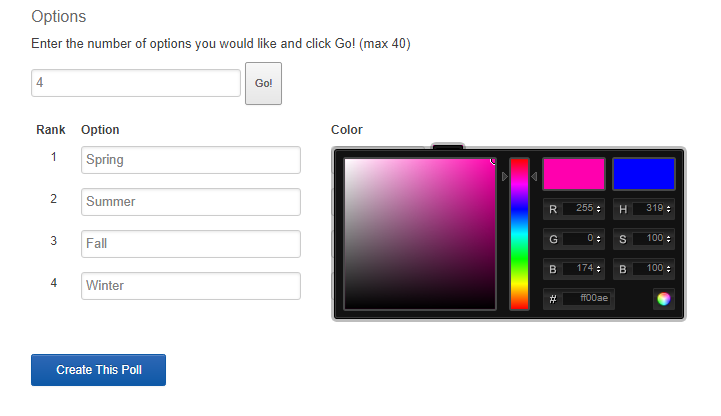 Edit Existing Poll
When editing an existing poll you will first be asked to select the poll you wish to edit. A list of all polls created through the control panel will be presented in a dropdown for you to choose between.
You will now be able to edit the title or the advanced settings for the selected poll.
Please note: You cannot add more answer options to a poll or change what answers are on a poll once it is created. This would skew the integrity of the results.
View Poll Details
Select the poll you wish to view and hit Submit.
You will be presented with an embed code that will allow you to display the selected poll in the location of your choice. If the poll is still open, you will see the question and possible answers. If the poll is closed, you will see the results.
Delete a Poll
All polls created through the Network Polls page are able to be deleted directly from the control panel. Polls created by users will not be returned in this list.
View Polls
The View Polls area is a visual representation of all the network polls.
For each poll displayed, you can:
View Results / View Poll – if a poll is closed, you will see the results only. If a poll is still open, the initial view will be of the actual question and answer choices, but you can hit the View Results link to see the graph/chart of the results so far.
Export – this provides a comma delimited list of poll data for each vote.
Feature this poll

Date and time start
Date and time end