Overview
One of the key features of our moderation offering is the ability for users to self police their community and report any content they come across that is inappropriate or illegal. From the menu below, a user can report any piece of user generated content on the site.

Flagged Content in the Control Panel
After content has been reported it is accessible in the main ONEsite control panel, as well as the Moderation Control panel.
When the page is first loaded, the moderator is presented with a summary of the flagged activity on the site. This page automatically refreshes to show the most up to date flagging data.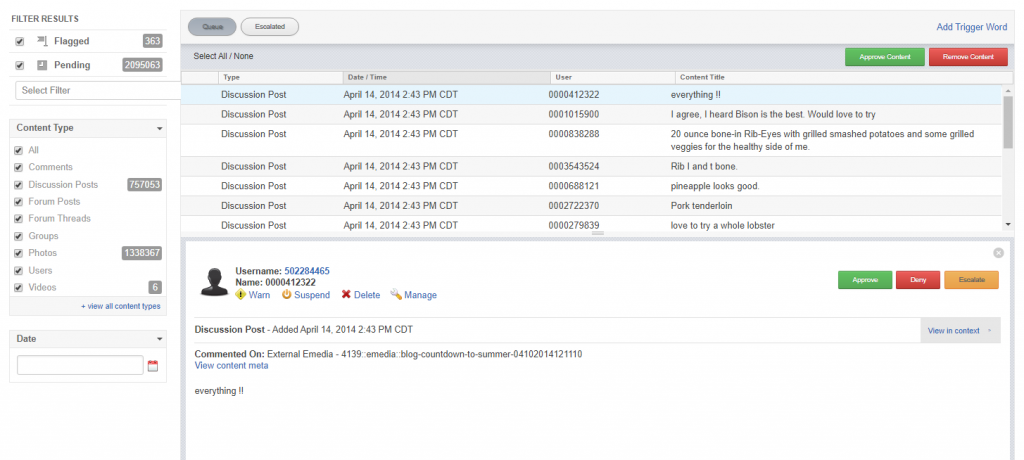 Flagged Content – Content View
By default, content is displayed by type.
Each flagged item will contain certain common details, including:
Number of times flagged
Owner of the content
URL of the content owner
Title of the content
Date created
First reported by
Date first reported
Issue
Description
A link to display the flagged item in context
It also contains content type specific details. In the example below, you see two comment flags. Flagged comments also show:
Where the comment was posted – for example, on a user's profile page
Text of the comment
A flagged photo or video would show a thumbnail image instead of text.
Each piece of content can be deleted or you can remove its flag(s). In addition, you may warn, suspend, or delete the item's owner.
Flagged Content – Advanced Options
For networks with a large quantity of flagged content to work through at one time, we also include an advanced search option. This allows a moderator to sort and filter the list of flagged items in order to work the most pressing issues first.